STM is involved in the project by supplying its belt conveyor system for the tunnel excavation for the Algiers Metro Project (Lot-1) which includes more than 9 km of new tunnel and 9 new metro-stations of Algiers metro-line.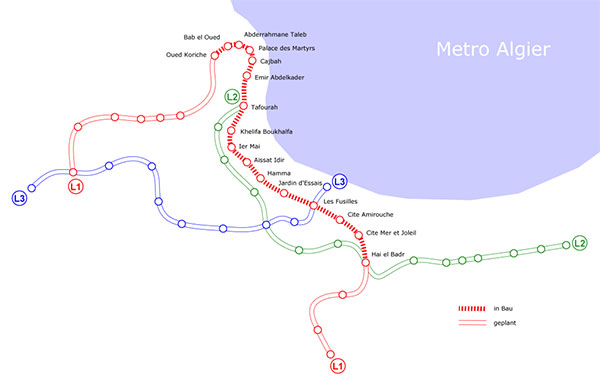 At the end of the works, the line will connect the city centre to the International Airport of Algiers, reaching most of the principal attractions of African capital: rail stations, universities, hospitals and commercial malls. "LOT 1 extension" is the first application in Algiers of mechanized excavation for a metro-line.
The tunnel will be entirely excavated in an urban area, crossing very sensitive buildings such as universities, the Bab Ezzouar shopping centre, several railway lines and finally the Algiers International Airport, with average 1-3 bar counter pressure on the excavation chamber.
The 9km length tunnel can be divided into two sections:
Section 1 from Oued Smar Station to the Airport, with a length of 5808m it will be the first phase of excavation (5 stations and 1 shaft for TBM disassembly & transportation);
Section 2 from Oued Smar station to El Harrach Centre station, with a length of 3767m, it will be the second phase of excavation (3 Stations).
After the first phase of the excavation, the TBM will be disassembled from the service-shaft, transported again to Oued Smar Station and re-assembled for the launching of the second phase of excavation to El Harrach centre.
STM offers its expertise in the tunnelling by supplying its belt conveyor systems thought to facilitate and help TBMs and the excavation site to be highly efficient.