LIMA METRO LINE 2
The new metro in Lima is currently the biggest infrastructure project in Peru. The line will have the capacity, ONCE COMPLETED to transport up to 660,000 passengers a day, with aims to improve and protect the environment improving air quality by reducing emissions.
Lima Metro Line 2 project is divided into line 2 (27km) and part of line 4 (8km) for a total of 35 km of underground tunnels.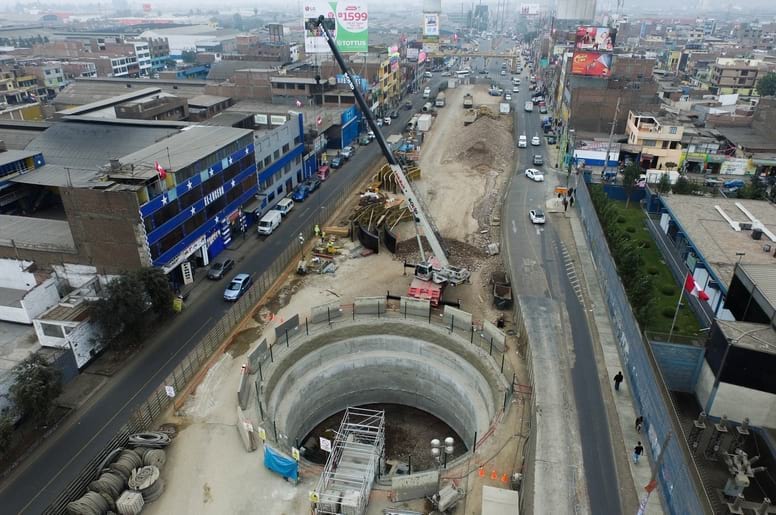 STM designs and realizes a sloped conveyor system for muck elevation from the tunnel conveyor to the surface, with an external tripper conveyor equipped with stacker, unload the tunnel muck along the continuous pick.
STM succeeded in reaching these outstanding achievements thanks to its distinguishing features: expertise in every area of activity, strong focus on the Customer, passion for innovation and improvement and particular attention to the quality.
Industry: Tunnelling
Location: Peru
Material: Muck and spoil from tunneling excavation site
Lima Metro Line 2 project highlights STM experience in the tunneling sector. Indeed, conveyor systems provide an efficient, reliable, cost-effective and lower-risk method of removing muck and spoil from tunnelling excavation sites. Thanks to core competencies, know-how, and on-going investment STM is able to provide to its customers CONTINUOUS CONVEYOR.
The continuous conveyor is globally recognized as the most efficient and effective solution for the handling of material extracted by tunnel boring machine (TBM). This equipment is specifically engineered to smoothly handle the transport of materials from the tunnel excavation site to the surface and beyond. Large Belt Storage capacity increases TBM utilization, reduces construction time and results in lower costs.