STM was awarded a contract to supply the belt conveyor system for the construction of the Ulu Jelai Dam. The hydroelectric project is located approximately 200 km north of Kuala Lumpur in the state of Pahang, Malaysia.
The Ulu Jelai Hydroelectric Project is developed on the Bertram River; it is more than 80 meters high and constructed entirely using the advanced technology of RCC. The volume of RCC dam is 750,000 m3 and 850 mt total STM's conveyor length installed. This project is very important for Pahang's socioeconomic development. It will boost national energy production and more foreign investments in the Country.
Gravity dams, like the Ulu Jelai Dam, mainly adopts RCC concrete technology. This proves to be the best solution for contractors increasingly looking for equipment able to guarantee them continuous feeding with flexible use mode to meet several objectives such as:
reduction of the entire duration of the construction site;
meet operative, financial, environmental benefits;
deliver this very important infrastructure to the local community in the shortest time.
These features are provided by a conveyor line able to follow the dam growing, with special devices as elevation tools for conveyors and distribution devices as swingers, crawler placers, tripper conveyors.
STM developed a specific system for the concrete placement, both for conventional concrete both for roller-compacted concrete (RCC) which was applied in the Ulu Jelai Hydroelectric Project as well.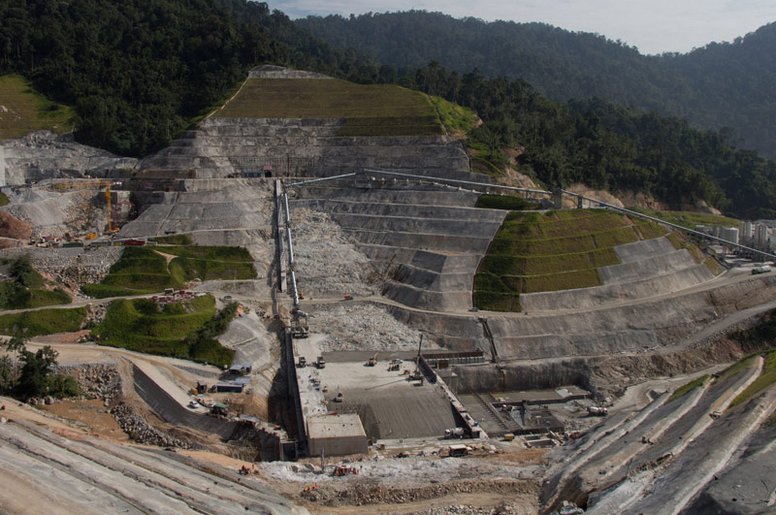 The conveyors line is designed for the concrete placing on the dam site. It handles the concrete from the batching plant up to the gorge, where the dam it is building. At the end of the line a swinger conveyor loads the trucks with RCC.
The RCC Conveyor line is mainly composed of a stationary hopper, a special feed conveyor and 5 bridge conveyors plus the swinger conveyor.
STM has designed and realized an innovative swinger conveyor. It is a special conveyor capable of 360° rotation that follows the growing of the dam changing the slope of the conveyors (span = 50 mt) for the distribution of the concrete.
Total lenght: mt 1.200
Tons/h: 800
Slope range: +25° -18°
Industry: Concrete Placing
Location: Malaysia
Material: RCC Concrete